Dec 25, 2018
27
3
3
32
Shard Name

Ardenreich
Hello everyone.
THIS
is my introduction and this here thread I will use for my stupid questions and to solve my problems. I will try to number those and add solutions below the questions - if found.
"Disclaimer": Also, I have to add, if you see me writing something like ".help", I mean "[help". I changed the command key since "[" requires me to push AltGr+8 everytime, cause german keyboard layout.
Question #001
: What UO installation is recommended for ServUO in Dec2018? As stated everywhere, I just took the fully patched UOML and unzipped it.
Answer #001:
ServUO is up to TOL (Time Of Legends) you can download the classic client here

https://uo.com/Client-Download/

once it is downloaded I would check the client exe in the game folder to be sure it's at least 7.0.73,13 -so dump the ML client
Problem #002
: NPCs below the map (Player stuck below the map on login, too). More details can be found
in this thread
. Also, doors have not been generated on [createworld - this may be related.
Partial Solution #002:
After Answer #001, only some NPCs in Britain seem to remain underground. Most others I saw are above. I will report back if that changes. Player is above ground on login (even after server restart).
Problem #003
: NPCs have a bugged menu. ("Nach Zeitzonen sortieren" means "Sort by time zones")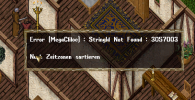 Solution #003:
This is solved by Answer #001: Using Time Of Legends instead of UOML.
Question #004: Would you mind suggesting some tools for map creation? And is there a working DL-Link for CentrED+? The website seems to be offline.
Partial Answer #004:
Hey NMND, The download link for CentrED can be found here

https://uo.wzk.cz/centred-plus/

I'm not sure if this is the most recent version or not since the original authors site is down, but it should work for you.
Problem #006 (from #002):
Sadly, still no doors being generated on [createworld, even after [deleteworld
Solution #006:
Problem #006 (no doors generated) was solved by the command "[DoorGen", which I found in the [helpinfo commandlist. Thanks aj!
Last edited: