So, my playing experience over the last decade has been strictly on a free shard that does have Ter Mur implemented (capped at ML ruleset/features).
Exploring the map I feel like something is not quite right with both the Ter Mur region and while wandering through Castle Blackthorn's dungeon. I have now OSI experience of these areas to understand what is correct however.
This area for instance, is deserted and feels "broken". No visible spawners anywhere although there are some areas of Ter Mur that do have active spawners.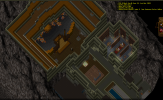 In Blackthornes dungeon, there are missing doors, and in some cases, extra doors. See the below screenshot, there are 4 doors in the first doorway and missing doors at the second doorway.

The spawn in Blackthorns dungeon is acting weird as well, where I have come across inactive spawners, I activate them and it seems like it will disable another spawner somewhere else in the dungeon. I cannot have them all active in this area. As I active one, others deactivate.
I cannot say this is all that is wrong with my world, just what I have discovered so far. Here is my Create World Gump

I am running ServUo from mid-January 2020 code.
Very little customization to the code, and I noticed these things prior to any customization.
Thoughts/Advice?
Thanks!