Djeryv submitted a new resource:
Ultima Odyssey
- A Single or Multi Player Adventure Game
Ultima Odyssey is a single or multi-player adventure game that takes place in an alternate Ultima universe, shortly after the events of Ultima III: Exodus. You can create a character that tries to make their way through the many worlds. You will have to find a way to feed yourself, and acquire equipment to explore your way around. Everything you need to know can be learned within the virtual environment. Knowledge can be acquired by talking to the citizens of the land, or you may find a book...
Read more about this resource...
The dev I passed it to had an issue with their blog and Google to the point where they decided to cease work. I am not going to go into the details of this "issue" here but I am not that timid...so since he is out of the picture I am putting it back up here. Like I said in the past, I didn't want the game to go away. Feels like the Godfather III where I get pulled back in. I took some of his ideas, however, and put them into the overall package. I liked how he did the client files as it seems to make updates much easier where one just needs to worry about the "Files" directory in the process. I removed his game label from the system and put it back to Ultima Odyssey because...I like it. I took a lead from his server folder layout as it seemed less intimidating to people that are not into emulation work. I redid the manual without his label and I left out much of my ramblings like he did.
I added pop up boxes to the Bard's Tale quest areas so it will throw certain pieces of information into the player's face. This is a little bit of hand holding that I hope makes the quest a bit more newer-gamer-friendly. The one thing I love...love...love, is the Jedi sub class he put together! I made the Syth class for "fun" and to do the genre-mashing I like a little bit of like in Expedition to the Barrier Peaks. I changed Sith to Syth for a differentiator, but he couldn't really do anything for "Jedi" so I left it be just that. I couldn't think of anything that just didn't look weird. Take that Disney! Anyway, it is pretty identical to the Syth path expect you need a bit more karma to pursue it where Syth simply need a negative karma.
I fixed his code for server saves and kept the settings.xml concept because I have that in the INFO folder and it saves a copy with each server backup (along with the rest of the INFO folder contents). So that is a nice addition to disaster recovery. Anyway...sorry the new dev idea didn't work out. I tried.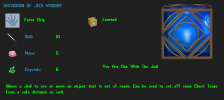 Last edited: