im also expanding on the evil curse taking over the land... in the server the evil is now slowly gaining as players aren't actively pushing it back enough. here's a spoiler of what im adding next: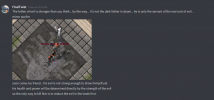 the strength and power of the new mob will be directly related to the curselevel
All his stats, and even his abilities will kick in if the evil is over a certain range. at high evil he will be unbeatable - this will force players to fight the evil together before he can be taken on.
He and his minions will also spawn randomly using the randomencounters engine we have been using to spawn reds/blues once the evil level hits a certain threshold. the all the lands will be affected if the evil is left unchecked.
hopefully this helps create a feeling of dread/evil/excitement that is lacking in "loot-finding" UO nowadays.
Last edited: