Hello, everyone!
Recently I and my mates have re-launched a Polish shard. This shard died in 2013, we've got the thing from 2007, so it was running on a weird amalgamation of RunUO and SunUO and some Russian emulator. Basically a version lower than 2.0. A picture over here: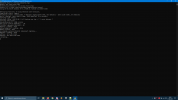 I've been looking for some decent system of vampires and werewolves. Being unable to write something that complex made me seek for it, however, I seem not to be able to find anything that would be working.
I've tried the Freyd's Vampire System v2.0 (including Werewolves), but it seems to display an error that says 'using' is not the right thingy for Server.Commands. I've dropped the idea there, as the system iteslf was supposed to run on RunUO 2.1.
Have you got any suggestions?
Thanks in advance!