Hi guys,
I've encountered this problem using custom transparent water tiles.

The tiles differ in some areas, as you can see, but not always. I mean, if I relog standing there, they suddenly show correctly: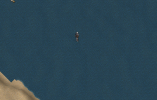 ------
But when I begin to move around, the tiles go crazy again, just like in the first image.
It seems to be affecting default transparent UO blood tiles also.
I remember not having this issue with older clients. Right now I'm using 7.0.60.47.
Do you know what may be causing it?
Thanks.