Okay so here is the progress on the new setup. Just showing you some screenshots of the menu/features. There will be way more. Spent a good 6 hours today on this setup. Currently have it scripting the Quest both in C# script format and XML backup.
File Menu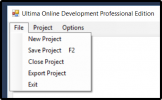 Menu Strip there is more then whats shown

Also things like typing in the quest title will also change the quest editor tab name and the quest name in the Project Explorer. You can expect this kinda of functionality so you can find your project parts faster in a nice organized setup.

Will work on this more tomorrow and the next day. Let me know if you like or dislike anything because I'm really not making this for me to use =)